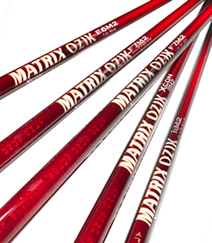 Driver Fitting Mania! Rotary Swing Golfers Pick Up Serious Yardage!

It's been a fun past two months since I announced that I would be taking my driver fitting knowledge into the main stream and start fitting amateurs. Armed with a wealth of knowledge, over 250 different driver combinations tested, a doppler based launch monitor, Nakashima interchangable heads and some of the best shafts in the world, we went live in April of 2008. Since then, we've had some incredible results.

Warren picked up 32 yards (yes, 32 yards) on AVERAGE over his TaylorMade R7 and Cleveland Hibore XL. His average drive with the TM was 227 total distance while it jumped to 259 yards with the Nakashima HTEC. Hank Zachry picked up 18 yards on average over his TaylorMade Burner, jumping from 279 to 297 yards off the tee! These are just a couple examples, you can see more by clicking the link below:

See more driver fitting results...

Why the Massive Increase in Yardage?

Unlike a typical fitting where a "club fitter" tries different head and shaft combinations until he stumbles on something that works, I combine instruction directly from my "Bomb Your Driver" series in the Members Vault with tested real world data using the best driver combinations available to the tour professionals and it is all validated with real world launch monitor numbers.

If you'd like to pick 30+ yards off the tee, email Christina to schedule your driver fitting today! Mention this email and receive 15% of the fitting fee!

email Christina@RotarySwing.com

You can also visit the Driver Fitting home page on the website at http://www.oneplanegolfswing.com/oneplanemembers/driverfitting/index.jsp