| | |
| --- | --- |
| Rotary Swing Membership Info | |

Special Christmas Sale!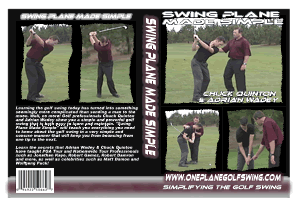 Swing Plane Made Simple is one of the most popular golf swing instruction videos ever produced, having sold thousands of copies around the world! Produced by golf professionals Adrian Wadey and Chuck Quinton who have worked with numerous PGA Tour professionals including Robert Gamez, Jonathan Kaye, and Robert Damron as well as celebrities such as Matt Damon and Wolfgang Puck. It's simple, precise and user friendly presentation of the one plane golf swing makes it a very popular choice for anyone from beginner to professional. This video simplifies the golf swing into its simple key elements, leaving out any superflous information that other instructional golf videos add that many find confusing.
To order this golf swing instructional video (DVD format only) for $49.95:
On SALE this Special Offer only: $29.95
| | | |
| --- | --- | --- |
| Google Checkout Orders: | US PayPal Orders, Click Button Below: | All International Orders: |

[an error occurred while processing this directive]