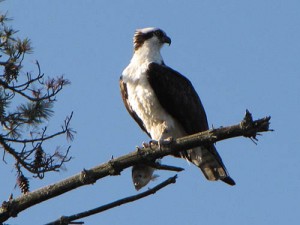 I was in the yard the other day, praciticing Move 1 with a folding mirror.  It would, I often muse, be easy to dismiss the takeaway as a mystery of the universe.  But, determination is wonderfully oblivious.  In a full sweat I was doing takeaways in slow motion, over and over and over.  Out of nowhere, a loud noise stopped me cold.  It was the screech of an Osprey (Pandion haliaetus).  The Fish Hawk is a common fixture here on the Chesapeake.  Once, nearly extinct, today the birds are so common that they will make a nest on nearly any elevated horizontal platform near the water.  During the summer, they are ubiquitous.  A neighbor has a  platform nest about 300 yards away.  Their screeches are continuous all summer long.  You get to where you don't hear them.
But, I heard this one.  Why?  It slowly dawned that I hadn't heard one for a week.  So, I walked to the pier, 7-iron still in-hand to see this bird.  Perched high in a dead Red Oak, the victim of lightning, sat this lone bird.  He was a traveler.  Passing through from some place north, he was headed south when he dropped in to check out this creek.  We all have our internal and external calendars:  School starts back, Football starts, or the birds of summer leave.  Whatever we anchor it to, the seasons tell us they are changing.  This hawk had a message for me; "Fall is on top of you, son."
Golf has been an odd lot this summer.  The void from the course closing down last winter hasn't been completely filled.  The swing, although greatly improved, is not ready for prime time.  The work on it is continuous, and pleasant.   The "learnings" come frequently.  But, there are miles to go.  The fault lies not in RST, but in years of building, and reinforcing a really bad move.  RST is an exercise in building.  What a joy it would be to build on bare ground.  Still, the days on the links with the wife and friends are the best of times.  There are more good shots, less bad ones, and the error band has shrunk tremendously.   Online lessons with Al have been awesome.  Time and patience and persistence are the orders of the day.  Winter will give the opportunity to improve.  In some ways, I'm looking forward to it like never before.
The hawk started screeching again, shaking me from my drifting.  Way off in the sky was a dot that was no doubt another Osprey.  My creek visitor screamed for his buddy to come down and visit this new place with him.  Within a minute, the dot was overhead and circling.  The two talked to each other in their high-pitched and penetrating voices.  It was summer all over again for a few minutes.  But, the tilt of the earth and the photo-period were not to be denied.  South America was a long ways off.  The Osprey in the tree grew more restless until it jumped and flew up to be with his southbound kin.  I watched them head relentlessly south until the dots on the horizon disappeared.   With them, they took summer.
Venus was starting to show.  There were mere minutes left of daylight.  Time enough to get in a few more reps in front of the mirror.