As an extension of my golf swing instruction clinics, it was only natural that a "
Bomb Your Driver Clinic
" that teaches all the secrets of picking up massive distance off the tee would be coming. Well, today was our first clinic and it was a great success. Both students picked up massive distance using the Rotary Swing Bomb Your Driver techniques and a few other little tricks and tips that I've yet to publish to the website.
Larry Boyle picked up 30 yards of carry, yes, 30 yards of CARRY with only 93 mph of clubhead speed. He switched from an Infiniti Propulsion driver with Harmon Tour Design shaft to a Nakashima HTec head with a Matrix F6M2 shaft. This combo lowered his spin rate a 1,000 rpm's on average and increased his ball speed 8 mph. Combined with instruction from me to optimize his quality of contact and path into the ball, Larry was hitting it not only further, but much straighter as well. Click on the image below to see his FlightScope report.
 Jack Flatley also had a great day at the clinic, picking up 27 yards off the tee and ended up with the Nakashima HTec 460 in an 11.5 with a Matrix XCon5 shaft over his Cobra L4V with a Diamana Red shaft. With Jack, we brought his launch angle up from 9 degrees to a much better 13.5 degrees. But even more importantly, we brought his clubhead speed up from 89 mph to 99 mph on average, with several swings breaking the 100 mph point! Apart from picking up nearly 30 yards off the tee, Jack cut his shot dispersion from 35 yards to only 16 yards! So, not only is he he hitting it 30 yards further, but he's also hitting it in the fairway!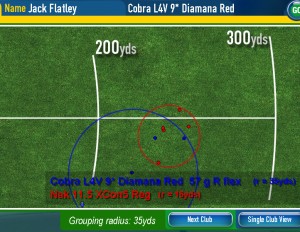 Jack cut his dispersion by more than 50% by switching to a Matrix shaft and doing a fitting with Chuck Quinton.
Settling in on our tried and true Nakashima Htec head with the Matrix XCon5, Greg McNeill picked up 16 yards of CARRY on average over his higher spinning Wishon/Harrison combo. Greg plays at Lake Nona in Orlando and you don't get much roll out there unless you bring the ball in on a shallower angle of descent. The nearly 3,200 rpm's of spin from the Wishon combo would carry on average 238 yards, but would get no roll and had a bit more sidespin than the Matrix shaft. Using the Matrix XCon5 with the Nakashima HTec 9.5 head, we dropped his spin rate almost 800 rpm's to 2,400 and also cut his side spin rate by more than half. This is the difference between a slice and a gentle fade. The XCon5 tip stiffness allows you to mishit it and still put very low sidespin on the ball. This coupled with the MASSIVE jump in ball speed of 5 mph leads to about a 20 yard increase in total distance when roll is added in. Lower spin, higher ball speed, more distance!