Golfers are always searching for golf swing tips, whether it be golf tips on the web or golf tips from their buddies. But the problem with these golf tips is that they often only apply to the golfer's swing who dispensed the golf tip or someone else's, but rarely does that golf swing tip apply to you and YOUR golf swing. The other problem with golf tips is that they often only "Work Only One Day," or "WOOD" as Johnny Miller referred to them. At some point in your golfing career, you're going to get fed up chasing golf tip after golf tip and at that point, you are ready to actually start improving your golf game.
One of the interesting things about the golf swing is that they are like fingerprints; no two golf swings look the same. But, to the trained eye, there is certainly commonality amongst the better golfers in the world. But, more importantly, there is distinction. Take David Toms and Vijay Singh below at the top of their golf swings: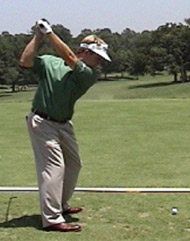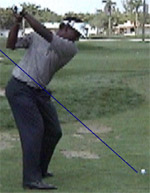 Now it shouldn't be too difficult to figure out these are two world class golfers at two very different positions at the top of their swings. Now if David were to ask Vijay for a golf tip, Vijay's tip might be for him to tilt his spine more over at address and get his hands deeper behind him. This would be a terrible golf swing tip for David Toms! David's golf swing is more upright and Vijay's is more around. So the golf swing tips that work for Vijay would be vastly different than the golf tips that work for Toms. The problem with golf tips in general is that they don't take into consideration the general differences between golf swings that are more upright and those that are more around, or a one and two plane golf swing. Each swing has a unique set of fundamentals and "golf swing tips" that work within each swing, but the golf tips are not interchangable. If you don't know which set of golf tips applies to you, visit our page that shows the differences between the one and two plane golf swings and see which swing tips will work best for you. Once you determine whether you are a one or two planer, you can more easily weed out the golf tips that work for you and the golf tips that don't and you can finally stop chasing your golf swing from golf tip to golf tip.
Free Golf Tip Video