START HERE: "Creating Lag in the Downswing Secret" Video
Watch "Creating Lag in the Downswing Secret" video
and improve today!
The opening of Episode 3 starts out with Ray not expressing confidence in his work with Hank Haney so far and he goes on to say that he'll be very happy if they actually achieve their goal of Romano breaking 80. Clearly not feeling like he's going to hit a homerun, he had a friend film his swing where he noticed his right hip shifting too far to the right during the backswing and that he has no idea how to fix it (an easy fix for any RST instructor). Offering his thoughts to Haney, Hank comes off somewhat offended and says that "the students sometimes feel the need to help the instructor." I can tell you this, the only time a student would do that is if they didn't have faith that the instructor would be able to fix the problem without his help. A desperate picture is being painted in the first 2 minutes of Episode 3.
Four minutes into the show, Haney is actually giving Romano attitude regarding Ray's mentioning of the three things he felt he needed to work on in his swing. Why give the client attitude? Rather, why not explain to the student the reason he does or does not need to worry about those aspects of his swing at the moment and then explain to him the pathway of how he's going to get from A to B. You do have a pathway, right Hank? Maybe you should consider letting the student in on the road map so he feels a little more comfortable leaving his swing in your hands.
As they went out to play on the course, Ray was clearly frustrated, dropping the "F-Bomb" while hitting multiple tee shots on a par 3 that he topped. But, unlike Haney's work with Barkley, Romano did start to show some progress and hit a couple good shots with a swing that was getting more on plane at the top. There was also some progress in his swing on the range earlier in the show and if Haney gets his swing to be less armsy and more controlled by his turn, he can easily get into an ideal position at the top of the swing in 5 minutes. But, given that it's taken this long to get where they are and Haney's statements about how he doesn't care about what the body does in the swing, this seems pretty dooming for Romano achieving his goals. With that sloppy arms swing, he'll never be a consistent golfer.
When Romano ends this series with Haney, I hope, for BOTH their sakes, he can demonstrate DRASTIC improvement in his swing. Putting in that many hours and getting no where is UNACCEPTABLE and an embarrassment to golf instruction. Hank, tell Ray to put the club down and teach him HOW to move his body so the club goes where it needs to. Keep teaching him to try and manipulate the club all over the place and ignore how the brain learns new movement patterns and the muscles that need to fire to get him to do what you want, and there won't be a third season of the Haney Project…
To prove that it can easily be done when you know what you're doing, here's a one hour lesson I gave yesterday with a 79 year old golfer – just to prove that you CAN teach an old dog new tricks: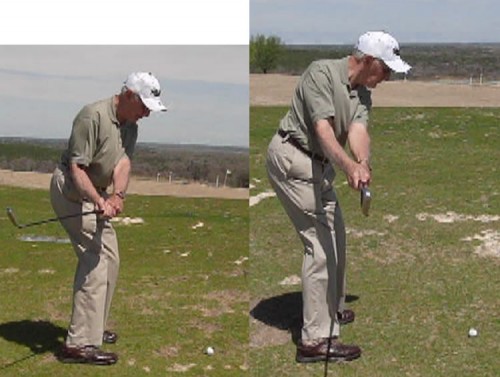 After working with the golfer for 30 minutes teaching him HOW to move, not just where to put the club, there's a dramatic improvement in his takeaway.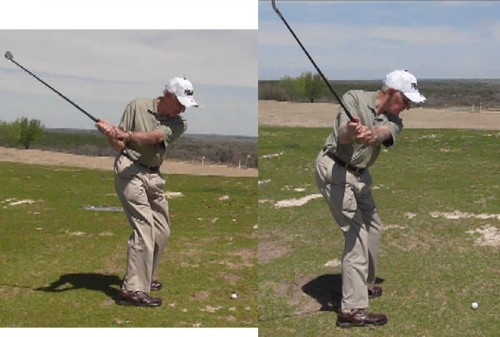 Halfway back, there's no comparison. The image on the right is as good as Tiger Woods and absurdly better than where he started just 30 minutes before!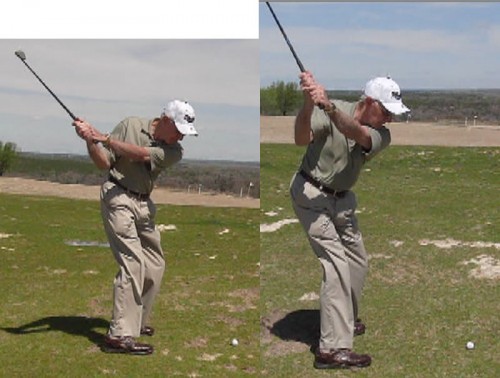 When he gets to the top of his swing, there is no comparison. Put this guy on the super senior tour! All of this can happen in an hour long lesson with me because I teach my students how to create new movement patterns the way the brain ACTUALLY LEARNS new movement patterns. Learn more in my Level 1 RST Certified Instructors Manual and you to can improve your golf swing like this.