Tiger Woods swing through impact is the absolute ideal model for the Rotary Hitter. No one demonstrates a better free-wheeling throwing motion of the right hand and clubhead than Tiger. In this swing sequence, you can see how, like a Rotary Swinger, the clubhead works left after impact, but does so because of the release of the clubhead, not just the body like the Swinger.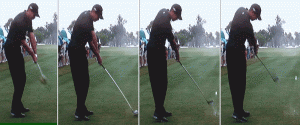 In this sequence, you can see how Tiger is "throwing his right hand" like I discuss in the
Rotary Hitter Right Arm Throwing Motion Video.
 But here's the point I want to emphasize. He's not throwing his right hand and arm with a lot of tension, it's a free-wheeling release that was setup by the motion of his lower body. I have seen several students who are making the transition to a Rotary Hitter and ONLY hitting with their right arm right from the top of the swing. This will create a lot of tension in the swing and require the arms to have to move very fast in order to have any power. We still want an "effortless" golf swing as a Rotary Hitter, and that includes how that right hand feels through impact. In order for the hands to release like this and get the clubhead to not get shoved down the line or worse, out to the right, the hands must be soft and be allowed to release, basically a crossover motion. Keep those arms soft and throw IN SEQUENCE for a great Rotary Hitter golf swing.