To explain all the differences would take a while, so I'm just going to point out a few here that can be seen to help you guys moving along while we prepare to shoot the DVD. The images on the right are from 2005 and the images on the left are from today.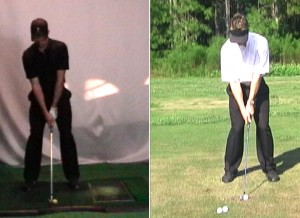 At address, it's pretty easy to see that my setup has improved significantly. I'm biomechanically better connected to my core at address with my shoulder blades (don't ask, covered in the DVD!) and my legs are not "knock knee'd" to provide more stability and allow me to rotate against my lower body. I'm also set up with the ball more up in my stance and my head more behind the ball.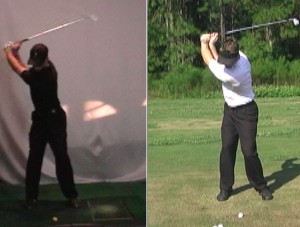 At the top of the swing, I'm clearly more "torque'd" up at the top. I no longer allow my hips to rotate back with my upper body, I coil against my lower body and this helps to control the length of my backswing, amongst other things. I'm much more stable here and feel far more powerful.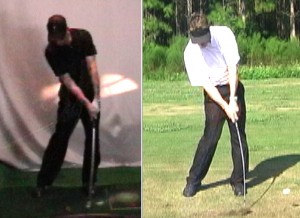 Needless to say, I have much more control over my ball flight now! My impact position has changed a lot. The shot on the right was a little steep so I was digging a trench, but that just helps illustrate the point. My divots are much shallower now, again, giving me a flatter trajectory and more control over the spin. Before, I was at the mercy of how clean my strike was.
Moral of the story: your golf swing is a journey and you can make tremendous progress, but be patient and enjoy the ride. It lasts a lifetime and I still feel like I improve almost everyday!