Tiger Woods took 2 years to feel fully comfortable with his swing changes under Hank Haney and Tiger works much more on his swing than I do, so I'm going to keep that in mind as I make these changes. In all, I have a dozen or so changes I'd like to make and I'm guessing each one will take me 2-3 weeks to feel comfortable given the amount of time I currently alot to practice, so this could potentially take 9 months. That's an awful long time and certainly not how I would teach a student unless he was seriously committed or needed to be committed seriously to a loony bin.
I am going to look at this as earning my bachelor's degree in biomechanics, so it's as much for education as it is for anything else. I'll be discussing these changes here in some detail as I progress, but will be reserving the really good stuff and the explanation for the changes for the Member's Vault members. Without further ado, let's look at today's swing sequence after a couple hours on the range this morning: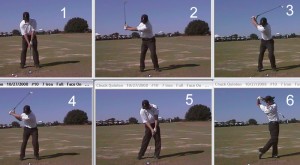 You can click the image for a larger view. In frame 1, I have a made a slight adjustment to my setup, anyone guess what it is? Overall, I'm pretty happy with my setup from face on and will only likely change one more thing from this view. Again, I'm primarily focusing on setup changes right now and have a swing thought or two that I'm trying to feel in my actual swing. Changing my setup is enough to leave the brain confused, so I'm trying not to overdo it. In frame 3, I'm really trying to make some changes here and in frame 4. My tendency is to over drive too hard with the right side. This gets me into the position I'm in in frame 5 where I've delofted the club a bit too much (this is a 7 iron) and my hands are a bit too far out in front of the ball at impact. Part of my interest in making these changes is to alter this impact position so that my hands can actually slow down and release the club a bit more. I'm actually losing clubhead speed here because I haven't had time to fully release the club.
In the end, a lot of what I'm working on is simply a matter of rotation, but biomechanically correct rotation. After a couple hours of work on the range with the 7 iron, I picked up the driver and my first swing was 122 mph, that's a fairly high first swing for me, I'm normally in the mid teens range, and it felt pretty comfortable. I can feel how I can power my swing with even more of the big muscles than I do already, which is going to allow my to swing faster with less work while actually protecting my muscles and joints rather than putting them at greater risk for injury.