I have been playing the game for 27 years, and I have the calluses to prove it.  Back in my amateur days, I was fortunate enough to live on a golf course, and I had the time to spend hours on the range perfecting my swing.  I would rise at the crack of dawn and head over to the practice tee armed with a roll of medical tape, a handful of cigars, and a gallon of iced tea…not exactly the breakfast of champions, I admit.  I would pound balls with the efficiency of a manufacturing plant assembly line, whacking a shot and raking in the next nugget.  If Ben Hogan was correct and the answers were in the dirt, I was ready to dig to China.  As time wore on, I could develop a ball flight that pleased me for the session, so off to lunch I would go.  After a turkey club on wheat toast, no mayo of course (I have to make up for the cigars somehow) and an icy beverage, I was ready to go back to the gold mine.  Another couple of hours would pass, and the afternoon play on the course would slow, so I would head out for a quick 18.  2 ½ hours later I would come in for another sandwich, maybe another cigar if I had any left, and back to the range to toil some more.  Dusk would be upon me, and the assistant professional would go through his nightly ritual of shooing me away; all in all, a great day.  My hands were tender, my back was sore, but a small price to pay for excellence in my humble opinion.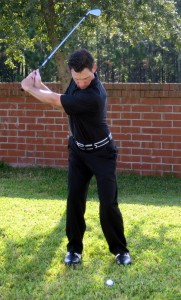 Does anyone else see the flaw in my master plan?  What exactly was I doing?  I had goals for each session, and I displayed the dedication necessary to master this game.  I wonder if this scenario sounds familiar to anyone.  Well if it does, I can tell you from personal experience, STOP WASTING YOUR TIME!
The fatal flaw in my master plan to achieving excellence was the brain simply does not learn at 100 miles per hour.  Effective change in a movement patterns does not occur by beating balls like a semi-automatic weapon.  In essence, all I was doing was improving my timing, not improving my swing.  Believe me, my plan was not one for true improvement.  I thought I was mining for gold in that practice tee dirt…all I was unearthing was pyrite.
The key to understanding an effective plan for golfing success is becoming educated on how exactly the brain learns.  Neuromuscular Reeducation is the definition given to any form of athletic training, rehabilitation program, or bodily movement that requires muscles and nerves to relearn a certain behavior or specific sequence of movements. It is important for us to fully understand how our muscles and nerves eventually learn and develop the neural networks and motor pathways necessary to perform the task effectively.  As a new movement is introduced, the body begins to develop a broad kinesthetic sense (sensation of muscle movements through nerves) necessary to facilitate the movement (Dr. Larry van Such). As the first movement is perfected, the next segment is stacked on top of that movement.   This forces the muscles and nerves to increase their kinesthetic ability or awareness to adapt to the new movement.  The process is repeated and ultimately the muscles and nerves become perfectly coordinated, together producing the desired effect.  Every day one practices, the muscles are constantly refining the pathways necessary to master these movements.  This makes them appear effortless and without any conscious thought.  When one masters a new motor skill, the athlete transitions from active effort to automatic ability.  Essentially, the new movement pattern becomes hardwired into the brain.  This is known as implicit or procedural memory.
The Rotary Swing model takes this fundamental fact about human learning into account and has developed a hierarchy for learning the golf swing. The hierarchy is as follows:
1.    How the Brain Learns
2.    Setup
3.     Weight Transfer
4.    Takeaway (Move 1)
5.    Back to Target (Move 2)
6.    Downswing (Move 3)
7.    Follow Through (Move 4)
Chuck Quinton and Alison Thietje have developed a plan in which the golfer learns each fundamental and then stacks another one on top of it.  It makes no sense for us to worry about the downswing if we cannot even set up correctly to the golf ball.  Once we observe a breakdown in a step, we will remove a piece and go back to perfect that step.  Once the Setup has been mastered, the next step is stacking the Weight Transfer.  If at any time there is a breakdown in one of the fundamentals of the Setup, we must remove any instruction about the Weight Transfer, and readdress the Setup.  This follows the process of neuromuscular reeducation.  This process should be continued throughout the course of building a sound golf swing.  While this process may not necessarily be viewed as fun, it is necessary to impart real change in motor patterns rather than allowing ourselves to expect to make any lasting change in our golf swings with a "quick fix" or improved timing.  As Chuck always says, "There are no quick fixes in the golf swing, only temporary ones."