The show starts off with Ray saying "I don't know if you want this on camera. Front nine, I shot a 61." Ouch. Not good for someone striving to break 80 for 18. Haney 0, Barkley and Romano 2. Haney, trying to defend himself, then says, "He made a conscious decision that he was going to get worse before he gets better so he wanted to make sure he could validate that decision and so he went out and played poorly." Are you kidding me? You seriously blame the student for shooting 61 for 9 holes because he made a decision he was going to suck? Come on, that's deflection at its finest.
Look, it happens all the time that golfers take a lesson and get worse for their next round for a million different reasons, often just because they're focused on learning something new and it distracts them from playing how they normally would. That's normal, but this excuse is too much for me to stomach. I imagine that Haney is on high alert to deflect any negative criticism about his instructional ability given the disastrous failure with his attempt to help Charles Barkley. At first, I was shocked he agreed to another show, but after thinking about it for two seconds, I realized that Haney's ego needed another chance to prove he wasn't a horrible instructor as the show made him appear to be. So, taking on Romano, who has a much better swing than Barkley, probably seemed like more of a sure thing for Haney.
The show then goes on with Haney spewing a thousand "tips" to the rest of Romano's crew as they play a round of golf. Brian Baumgartner was Haney's next victim who said "He changed my grip, he's changed my swing. I now can't hit the ball. I'm deeply, deeply confused at this point… I'm done." Later, he has a 100 yard shot and has to decide whether to use his swing or what Haney had him doing. He tries Haney's way on his "wheelhouse" shot and says "I failed." Haney now down 0-3.
I have to say, if Haney didn't have Tiger Woods in the bag, it appears that he would have very few amateur students lining up at his door after this show. I have to liken this to every other reality show ever produced involving a celebrity. You put them on a pedastool and think they are someone special. You then see them outside of the PR machines that run them in a more natural element and are quickly let down by the reality of who they really are. Paula Abdul anyone? People think working with Tiger Woods makes Haney the "best instructor in the world." This is complete nonsense. I'll give you a perfect example. I've worked with dozens and dozens of touring professionals. One example that is a perfect parallel to this situation is Blake Adams. Blake finished 3rd on the Nationwide Tour last year and already has a top ten finish on the PGA Tour this year. When I first met Blake, his swing was a complete wreck with almost nothing foundational to build on. Over the course of three days, yes, three days, we completely rebuilt his swing which I chronicled on the forum here. Below is a picture of Blake after our first morning session and a comparison pic on the right from the day before (to see the rest of the work I did on his swing, click the link above):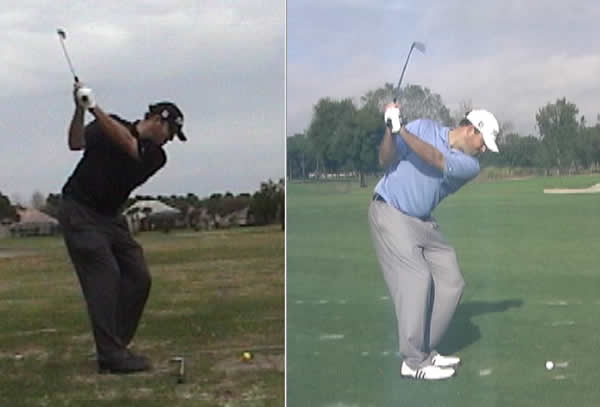 In just our first morning session working together, his swing looked completely different and his ball flight went from a hook to dead straight. We went out and played that afternoon after completely starting from scratch in the morning and he shot even par hitting all 18 greens. This isn't just because I'm good at what I do. It's because Blake is a phenomenal talent much like Woods is. Working with Blake and other talented professionals like him is like cheating. It doesn't get any easier to teach someone who already knows how to hit the ball, no matter what position he's in at the top. Now, getting the typical amateur hack to hit the ball properly, that's the true measure of an instructor's ability.
Kevin James predicted Haney will throw his hands up at the end of the show and give up on helping Romano. Romano didn't think too much of how he played in their round together. There's already disagreement between player and coach, Ray disagreeing with Haney's belief that he can go out and play better right away. Ray's response to that, "He doesn't know what the hell he's doing!" Romano's face and voice leave little question that he doesn't have much confidence in Haney after only the first episode. To make matters worse, the previews for next week leave Ray saying, "I'd like to say it's getting better, but I hate to lie on camera." To me, this is a lot like watching a car wreck. Barkley was more like watching a plane crash. You hate to watch, but you just can't look away. I'll be shocked to see Haney help Ray reach his goal of breaking 80, and given the rate they're going now, it will be more likely that they'll have to do another season to help Ray get back under 100. Perhaps it can be titled "Undoing the Hank Haney Project."
The jury's still out, we'll have to wait and see.
Chuck Quinton