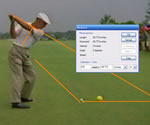 Jim Hardy considers Ben Hogan to be a model one plane swinger. In this article I discuss Ben Hogan's shoulder plane and how it does not fall into the mythical 48" zone.

Ben Hogan's spine angle was fairly upright for a one plane swinger. In this article, I discuss his spine angle and other fundamentals of his address position.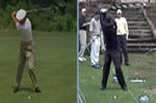 In this article I walk through, frame by frame, Ben Hogan's one plane swing and Tiger Woods two plane swing and point out how amazingly similar they were, while at the same time being very unique.

Video analysis of Ben Hogan's golf swing from down the line. Includes footage of his golf swing and break down of his swing fundamentals.