Watch this golf instruction video to learn How to Hit a Draw with the one plane swing watching this video.
Learn how to hit a fade using the one plane swing by watching this instructional video.
Hit the golf ball low to cheat the wind and gain control over your golf shots.
Learn the technique to hit the golf ball high when hitting to hard, fast greens or going over trees.
Learn to hit Tiger Woods 2 iron stinger shot for increased distance and control on demanding tee shots.

Are impact and address positions the same in professional golfers?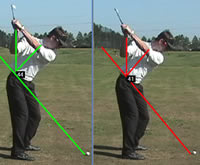 What swing changes in your golf swing need to be made to hit a fade and a draw?

Reach more par 5's in two by learning the technique to successfully hit your driver off the just like Tiger Woods!

Do you release the club with your arms or body? Knowing the difference will change your golf game!

Looking to develop the coveted flat left wrist at impact? Watch this instructional video!

There are three basic ways to release the golf club and each is explained in this video.