by Chuck Quinton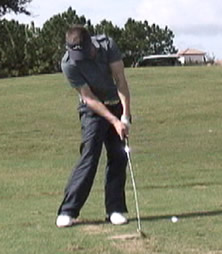 Golfers learning the one plane swing will often "over cook" certain aspects of the swing as they try and develop the new sensations of the swing. One common "miss" occurs when the golfer hits the ball fat – when the ground is struck before the ball. One of the most common causes of this is when the arms release too early in the swing and body stops its rotation to the left. As you have learned, as soon as the body stops or slows its rotation, the passive arms have the opportunity to "catch up" to the body and release off the chest. If the body has not properly cleared to the left to give the arms room to swing through, the club will be slung down too steeply toward the ground. It is critical for the body to keep rotating to the left while keeping the arms passive to avoid this common miss. It is also very critical that the golfer never try and actively use the arms to generate clubhead speed as this will cause the arms to release from the body too early in the swing.
Golfers who are very focused on maintaining their spine angle throughout the swing also can have tendencies to hit the ball fat as they tend to stop rotating the body out of the way or increase the spine angle too much during the downswing. Tiger Woods, a golfer who tends to significantly increase his spine angle on the downswing, on occasion will hit shots fat at inopportune times. At the Masters in 2005, he duck hooked a driver off the tee hitting several inches behind it and did the same thing during the 2005 Open Championship with a 3 wood off the tee on 18 on Friday. Because his spine angle increases during the downswing, he is forced to decrease it through impact by, in essence, somewhat coming out of the shot or else he would hit the ball fat on every shot. Keep your spine angle constant and your arms passive to start hitting the ball pure. For a practice drill, use the "Broom Drill" to get a feel for how to properly release the club in the swing.
Golf Store
Buy Rotary Swing instructional DVD's, books and golf training aids.




GameConsole See the Members Vault GameConsole in action!




Custom Driver Fitting
Pick up 40 yards today with the proper driver and technique!