by Chuck Quinton

| | |
| --- | --- |
| Ben Hogan - Pure Ball Striker for the Rotary Hitter | |

Watch "Rotary Golf Swing - Pure Ball Striker for the Rotary Hitter" Video


Macromedia Flash Player Required (Free Download)

The Rotary Hitter has a very distinct set of fundamentals that differ significantly from the Rotary Swinger and as such, there are different swing drills and simple training aids that allow the Hitter to groove the different swinging motion. In this golf instruction video, the throwing motion of the right arm is discussed and in particular, the pressure that a Hitter should feel in the first joint on the index finger of the right hand. Fortunately, a very inexpensive and simple training aid has been created for the development of this feeling. The Pure Ball Striker, as demonstrated in this video, helps you deliver the club perfectly into impact with the throwing motion of the right arm to ensure proper compression and a solid downward strike. If you struggle with flipping the club and are a Rotary Hitter, this device will help retrain you to feel the proper pressure in the right hand. In fact, none other than Ben Hogan spoke about this in a video and this was what he was referring to when he said he wished he had "three right hands."
In the screenshot from the video, you can see how the right arm is driving and guiding the hands to the "aiming point" discussed in the Rotary Hitter downswing and right arm throwing motion video. The hands are well in front of the ball but the club is still several feet from impact. This ensures a proper strike and avoids the dreaded "flip" through impact that so many amateurs struggle with.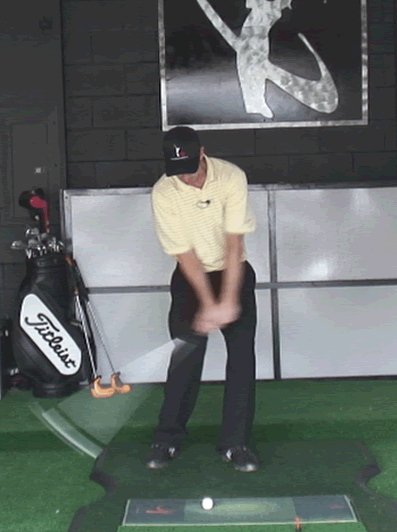 Order your own Pure Ball Striker today for only $13.95.

Within the Continental US:

International orders, use this button:

 
Golf Store
Buy Rotary Swing instructional DVD's, books and golf training aids.




GameConsole
See the Members Vault GameConsole in action!




Custom Driver Fitting
Pick up 40 yards today with the proper driver and technique!