by Chuck Quinton

| | |
| --- | --- |
| Rotary Golf Swing - Core Body Movement | |
Core Body Movement
by Chuck Quinton

The body movement necessary to execute the Rotary Swing is so simple, it could be termed in just one word – rotation. Throughout the golf swing, the body's aim is to simply rotate around the spine without changing its angle, that's it. With the spine acting as a fixed axis, the body can simply rotate back and through. Many of my students actually think of the entire golf swing now as nothing more than "turn and turn," and this would be an accurate depiction of the simplicity of this movement and the beauty of the Rotary Swing.
To get the feeling for this movement, stand straight up in a balanced stance as discussed in the Golf Address article and place your arms across your chest. Now, simply rotate away from the target around your spine. You'll note that there is no pronounced weight shift during this move, but you will feel a slight increase in pressure on the inside of the back foot. If you have moved your weight significantly to your back leg, the base of your spine has shifted away from the target or you have tilted your spine away from the target and these are unnecessary extra movements. The base of your spine is the fixed point for the golf swing and your spine simply acts as an axis to rotate your upper torso around.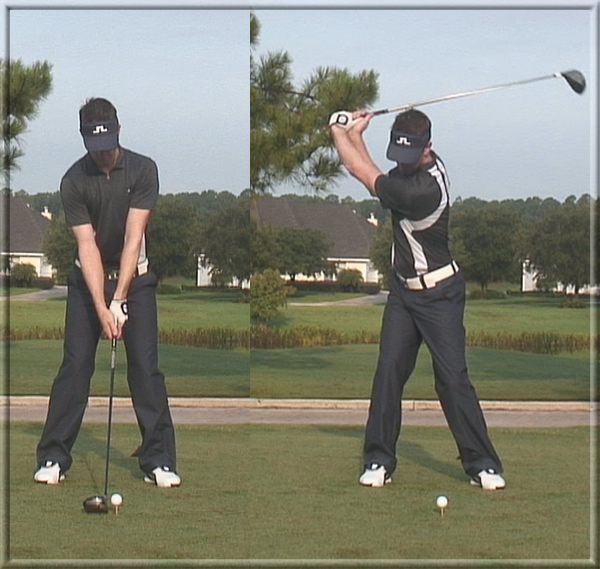 Note how a big turn of the upper torso is made while the body remains very centered.
Golf Store
Buy Rotary Swing instructional DVD's, books and golf training aids.




GameConsole
See the Members Vault GameConsole in action!




Custom Driver Fitting
Pick up 40 yards today with the proper driver and technique!