Knowing When to Pull Out the Lumber on Par 5's
by Chuck Quinton

View Video 14 minute video on how to Manage Par 5's and make more Birdies!

How often do you step on the tee at your local golf course to the par 5's and pull the driver before you even get out of the cart? While the driver certainly has its place on many par 5's, there are just as many where it's not the wise play, no matter how far you hit the ball. In this instructional video, I walk you through me actually playing one of the par 5's at Windermere Country Club and let you see the thinking process that I go through when deciding how to play this hole.
The hole I am playing in this video is the par 5 15th. In the image below, you can see the shape of the hole and my lines that I play on this hole.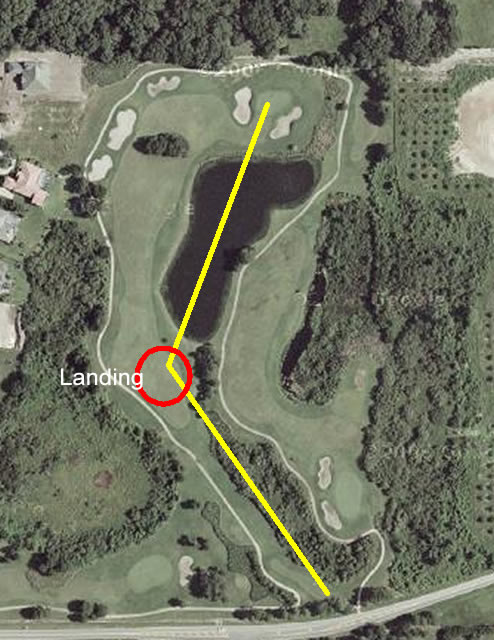 The first shot off the tee puts me in the perfect landing area that leaves me with an open shot at the green with about the same yardage as my tee shot, so it turns out I usually hit a 4 iron off the tee and a 4 iron into the green. Both shots are around 220 yards and that is the key. While the hole says 526 on the score card, for me it plays only 440 because of my shot off the tee and angle of approach for my second shot. This second shot takes me right through the throat of the green, so that even if I come up short, I'm on the short grass with a simple pitch for eagle.
By taking a longer club off the tee such as the driver, I have to thread it into a very narrow part of the fairway that is completely blind from the tee. A 3 wood brings the lateral hazard and trees into play through the fairway and a 2 or 3 iron brings the small oak on the right side of the fairway into play, forcing me to work my approach shot into the green and take a longer club as I will have to hit a big fade.
While you may not always be able to take a 4 iron off the tee on a par 5, there are many instances where something other than the driver is not only the smarter, safer play, but will even increase your chances of making birdie or eagle and at a minimum, keep you from making a big number.
Play Smart.
copyright QHC 2006