by Chuck Quinton

| | |
| --- | --- |
| Proper Wrist Set in the Rotary Golf Swing | |
The proper application of power from the body in the Rotary Golf Swing can only be had with sound fundamentals. When those fundamentals are off, you are working with a golf swing full of compensations and your consistency will suffer as a result. One of the most common mistakes I see in golfers learning the Rotary Swing is excessive wrist cock. In this video, I talk about what is the proper wrist set amount from address to the top of the golf swing and demonstrate that in the swing.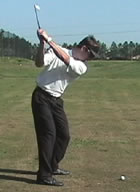 Chuck Quinton demonstrating the proper clubshaft and forearm relationship at the top of the golf swing.
Golf Store
Buy Rotary Swing instructional DVD's, books and golf training aids.




GameConsole
See the Members Vault GameConsole in action!




Custom Driver Fitting
Pick up 40 yards today with the proper driver and technique!