| | |
| --- | --- |
| Tiger Woods 2 Iron Stinger | |

Watch "Tiger Woods 2 Iron Stinger " Video

How to Hit Tiger Woods 2 Iron Stinger
by Chuck Quinton

Unfortunately, the two iron is quickly going the way of the Do-Do bird and fast becoming extinct. It's a shame because it's probably one of the most effective clubs in my bag and one that I use every single round of golf I play. Employing Tiger Woods infamous "Stinger" shot, I can hit my 2 iron 260+ yards, very low, very under control and very straight. Tiger used this shot countless times during his incredible streak of 2000-2002 to put the ball in play off the tee with superb distance. It is a shot that I believe every mid to low handicap golfer should learn to master and I'm going to teach you how in this video.
There are three main keys to this intimidating golf shot. First, you need to play the ball back slightly in your stance, roughly 1-2" back of standard. Second, make a more compact swing at the top. And third, keep the club delofted through impact and hold off the release as long as possible. It helps to visualize the ball coming out very, very low to the ground off the tee.
Note the launch angle difference in the two pictures below. In the top picture, I am hitting the stinger shot and the ball is coming off the face at only 4 degrees. In the second photo, the ball is coming out more than twice as high. The second shot is a normal 2 iron shot that I would hit into a long par three where it would need to land soft. But there's nothing soft about the stinger shot. I want it to come out screaming fast and hard and land just as hard. A big key to this shot is the run it gets once it lands, so it helps to play a slight draw as well to squeeze a few more yards out of it.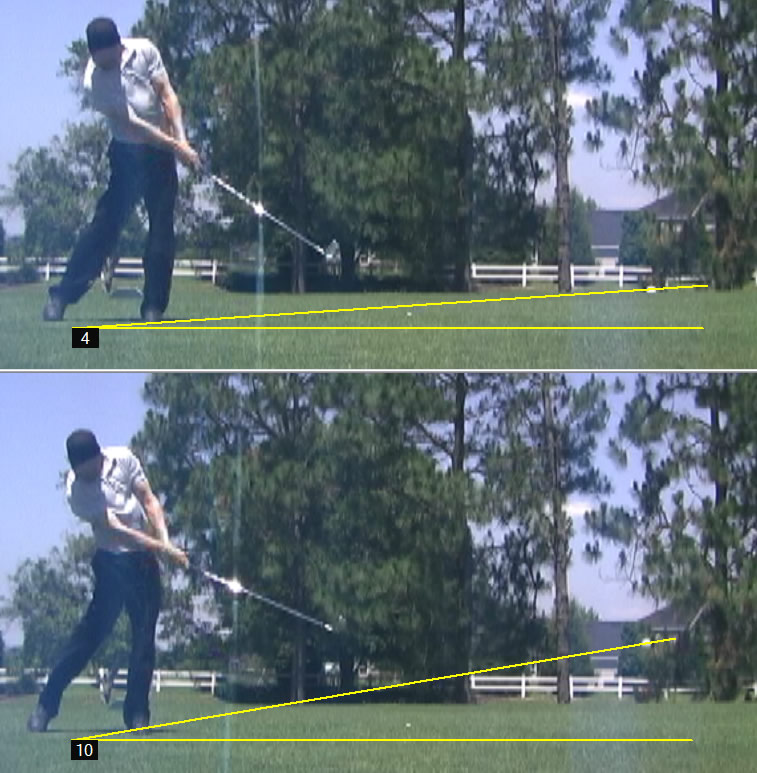 Note the difference in the two follow throughs below. In the top picture (the stinger) I'm holding off the release of the club as long as possible, in the bottom picture I'm allowing the club to come around to a fully released position which will hit the ball higher and allow it to land softer.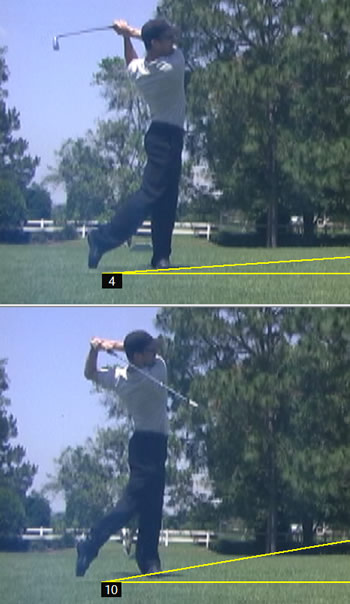 You don't have to hit this shot with just a two iron, it can be played with a mid iron or even your driver. Take the time to master this shot and see if it doesn't save you a few strokes on those holes where you absolutely must get the ball in play and need good distance, especially in windy conditions as this ball will rip through the wind with no trouble. Learn how to hit the Tiger Woods 2 iron stinger shot and put the ball in play more often on tight par 4's!
If you would like to learn more about Tiger Woods swing, click here for a full breakdown of Tiger Woods swing changes under Hank Haney.
Golf Store
Buy Rotary Swing instructional DVD's, books and golf training aids.




GameConsole
See the Members Vault GameConsole in action!




Custom Driver Fitting
Pick up 40 yards today with the proper driver and technique!