| | |
| --- | --- |
| Golf Downswing Forearm and Shaft Alignment / Plane | |

Watch "Golf Downswing Forearm and Shaft Alignment" Video

When a golfer first looks at their own golf swing on video with their golf instructor or on their own, it can be as confusing as a wiring schematic for Boeing 747. There are so many things that can be broken down and dissected in the golf swing that a road map of the things that really matter is very important. With this video, I talk in depth about what is one of the most important positions in the golf swing. The alignment of the club shaft and the right forearm at the right stage in the downswing is paramount for getting your shots to start off on their intended line.
If you study the photo below of Chuck Quinton on the right and Ernie Els on the left, you can see this alignment clearly demonstrated.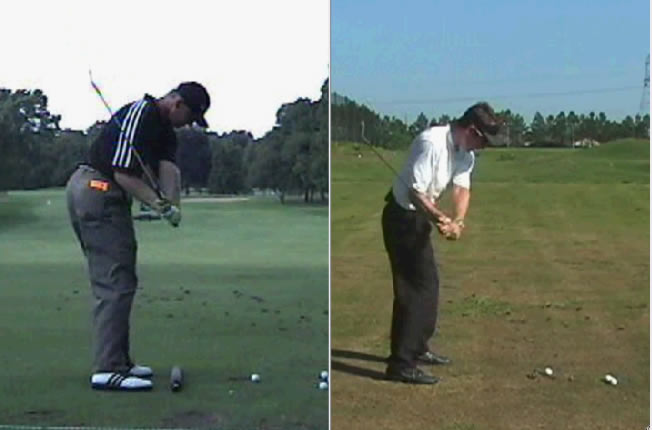 In the picture on the left, Ernie was struggling with pulling the ball during this tournament. Note the shaft coming high through his right bicep at this point in the swing whereas my shaft on the right is bisecting my right forearm. From this position, I can continue to rotate and release the club aggressively without any fear of missing the shot left. Ernie Els has to either hold the club face open with his hands or stop everything from releasing and come into impact very weak to avoid pulling this shot. As you will see in the video, he pulled this shot as he released the club normally. Ernie had to work on getting the shaft shallower on the way down at this tournament with Robert Baker and Adrian Wadey (from our Golf Instruction videos) in order to stop pulling the ball.
As you will see in the golf video above, this is a simple thing to check once you understand it's importance and what to look for in your own golf swing. So the next time you are pulling the pull, check your club shaft and forearm alignment at this point in the golf swing and see if you are simply getting too steep. This video includes other golf swings and examples of this position from Ernie Els, Adam Scott, Adrian Wadey and Chuck Quinton.
Golf Store
Buy Rotary Swing instructional DVD's, books and golf training aids.




GameConsole
See the Members Vault GameConsole in action!




Custom Driver Fitting
Pick up 40 yards today with the proper driver and technique!