by Chuck Quinton

| | |
| --- | --- |
| Impact vs Address in the Golf Swing | |

For years, golfers have been taught by well meaning instructors to return the club and the body to the address position at impact. But the interesting thing is, golf professionals do not do that, so why would you as an amateur want to? The dynamics of the swing won't allow it in an athletic golf swing and this advice may be causing your golf swing a fair bit of harm. Take a look at the picture below of four professional golfers at address. From top left going clockwise they are Chuck Quinton, Adrian Wadey, Ernie Els and Trevor Immelman in the bottom left.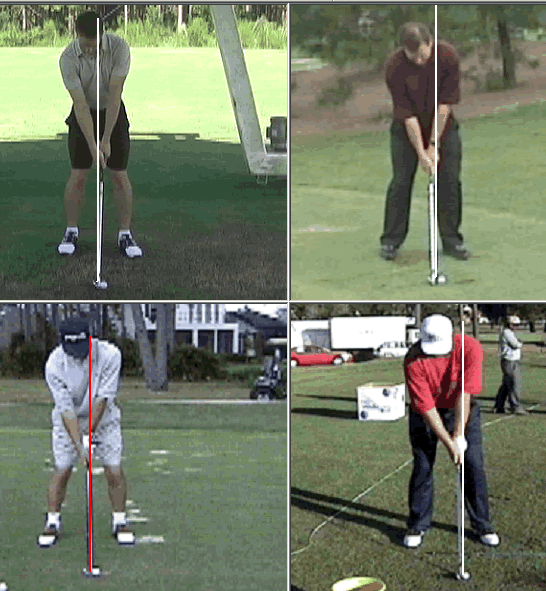 Now, look at the following picture of all four golfers at impact.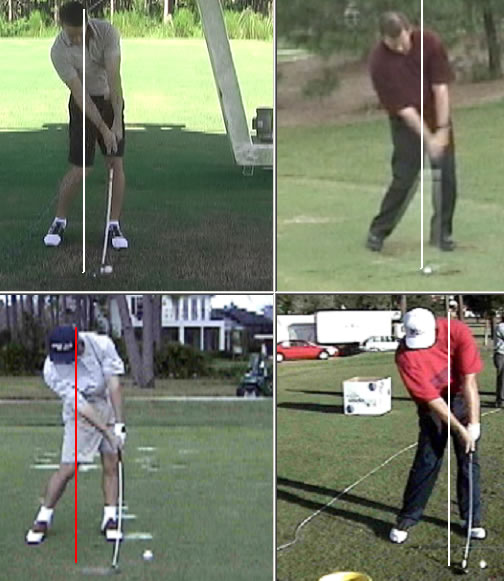 There are several things to note here. One, the left wrist at address is fairly cupped and at impact it is bowed. This is a completely dynamic action that allows the golfer to properly compress the ball through impact and creates a more penetrating ball flight. It is not something that is consciously done, you should never try and bow your wrist through impact, it simply happens as a natural result of staying behind the ball and letting the dynamics of the golf swing take place. Two, their bodies are rotated open through impact, not square as they were at address. And three, I'd really hate to be Ernie's shaft in this picture - ouch! It's amazing to watch Ernie swing, for someone who appears to expend so little energy in his golf swing, clearly through impact he is generating a tremendous amount of force to bend the shaft that much.
Impact and address are not the same and trying to follow someone's advice of returning the club and body to the address position at impact could be doing your golf swing more harm than good. Be careful of unsolicited advice on the driving range!
Golf Store
Buy Rotary Swing instructional DVD's, books and golf training aids.




GameConsole
See the Members Vault GameConsole in action!




Custom Driver Fitting
Pick up 40 yards today with the proper driver and technique!