by Chuck Quinton

| | |
| --- | --- |
| Hand Dominance in Putting | |

Watch "Hand Dominance in Putting " Video


Macromedia Flash Player Required (Free Download)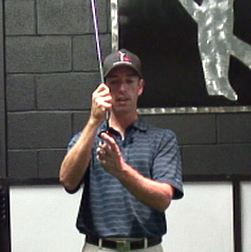 Determining whether you are right or left hand dominant in your putting stroke is one of the most important aspects to rolling the ball like a pro. In this video, Chuck Quinton discusses the importance of monitoring the putter face angle through impact with the dominant hand in order to start your putts online. This is very critical when trying to make those 8 and and 10 footers for par and is something the Tour Pros excel at. In fact, the greatest golfer of all time, Tiger Woods, has talked about how he uses his right hand in his putting stroke to control the putter. As we all know, Tiger is perhaps the best ever at making those clutch 6 footers for par when the tournament is on the line and he could never do this without understanding the relationship of the putter face and ball at impact and how to use his dominant hand to control it.
As you'll learn in this video, the ball will leave at nearly exactly 90 degrees to the putter face angle at impact. On a 10 foot putt, being off only 2 degrees can cause you to completely miss the hole. Because we are putting on a slight arc, the putter face should technically be slightly open and working its way closed through impact, but this is a very slight amount of only 1 degree or less. Learning which is your dominant hand in your putting stroke will allow you to monitor the face angle throughout the stroke and ensure that you are square or very close at impact and get you rolling the ball on your intended target line in just a couple minutes of practice.
Once you use the simple drill in this video to determine which hand dominant you are, you may need to make changes that allow you to better control the putter face throughout the stroke. There are key aspects to how you take your address position depending on whether you are right or left hand dominant. In the table below is a breakdown for each trait.
| | |
| --- | --- |
| Left Hand Dominant | Right Hand Dominant |
| Key aspect: Left arm alignment | Key Aspect: Right arm alignment |
| Options: Left Hand Low or Straight Left arm | Options: Conventional Putter Grip |
| Setup: Vertical Axis if Left Hand Low or Axis Tilt with Conventional Grip | Setup: Vertical Axis |
| | |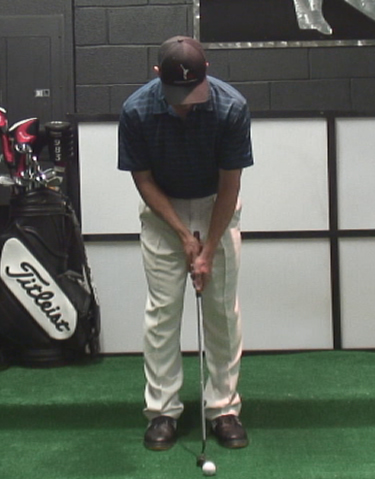 If you are left hand dominant, are you putting with the proper setup and grip?
Order the Putting Plane Today and save 15% for being a Member!

US Orders Click Below

$50.95 -- 15% off Retail!

 

International Orders Use this Button

$50.95 -- 15% off Retail!

 
Golf Store
Buy Rotary Swing instructional DVD's, books and golf training aids.




GameConsole
See the Members Vault GameConsole in action!




Custom Driver Fitting
Pick up 40 yards today with the proper driver and technique!