by Chuck Quinton

| | |
| --- | --- |
| Optimal Ball Spin with the Driver | |

Watch Optimal Ball Spin with the Driver Video

In the first three videos in the "Bomb Your Driver" video series, I spent time discussing the key aspects of how to strike and launch the ball for maximum speed and distance. In this video, I discuss spin rates in conjunction with Launch Angle, and how the two are directly connected for getting you maximum distance off the tee. Using the an average of clubhead speed of 95 mph, you can see in this video how you can consistenly pick up 60 yards, yes, 60 yards off the tee by combining all the knowledge of the videos in the "Bomb Your Driver" series.
If you regularly swing around 95 mph, using the proper Rotary Swing technique, setup and the right equipment through driver fitting, you should regularly hit the ball between 240-255 yards. Using three different sets of data below, you can see just how different these three balls would look in the air and it would be impossible to tell which one is actually going further overall. It's critical that you get not only properly fit with the right driver, but also that you make the swing and setup changes necessary to get maximum distance, and that's what the "Bomb Your Driver" series is all about. Enjoy the video and enjoy hitting wedge into that long par 4 from now on instead of 3 iron!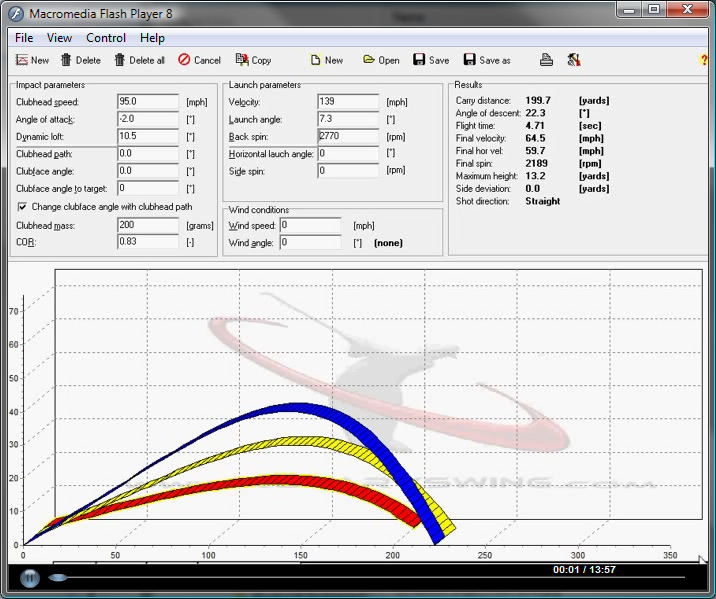 Golf Store
Buy Rotary Swing instructional DVD's, books and golf training aids.




GameConsole
See the Members Vault GameConsole in action!




Custom Driver Fitting
Pick up 40 yards today with the proper driver and technique!