by Chuck Quinton

| | |
| --- | --- |
| PGA Tour Sean O'Hair Rotary Swing Tour | |
by Chuck Quinton

View "PGA Tour Sean O'Hair Rotary Swing Tour" Video


If you're looking for PGA Tour players who emulate the Rotary Swing Tour golf swing, few do it better than Tiger Woods and Sean O'Hair, both of whom are featured in this video. When you slow their two golf swings down, it is amazing to see the similarities of the two golfers even though at speed they make look quite different. Both golfers do many great things in their golf swing, but you will also see a few things in here that can be improved upon that will make them better players.
I'm primarily focusing on Sean O'Hair in this video due to his recent '09 win at Quail Hollow where his strong back nine performance on Sunday earned him his third PGA Tour victory. However, I also use him here to show where his swing causes him a few problems like it did at Bayhill this year where he lost in a battle down the stretch against Tiger. This video is taken from that Bayhill tournament.
In one of the down the line sequences I analyze, you can see where Sean's being slightly disconnected at the top with his right arm leaves him slightly out of sequence on the way down leading to blocks and hooks. You will clearly be able to see where his hips are more open at impact, pulling his shoulders open and leaving his arms just a fraction behind. Tiger has slowed his lower body rotation down to give his arms a chance to keep up, but in his changes with Haney has moved to such an arms dominated movement that he often ends up with his shoulder closed at impact leading to big blocks and the occasional snap hook. If we could combine these two swings into one, you'd have a near perfect swing from an anatomical and mechanical perspective.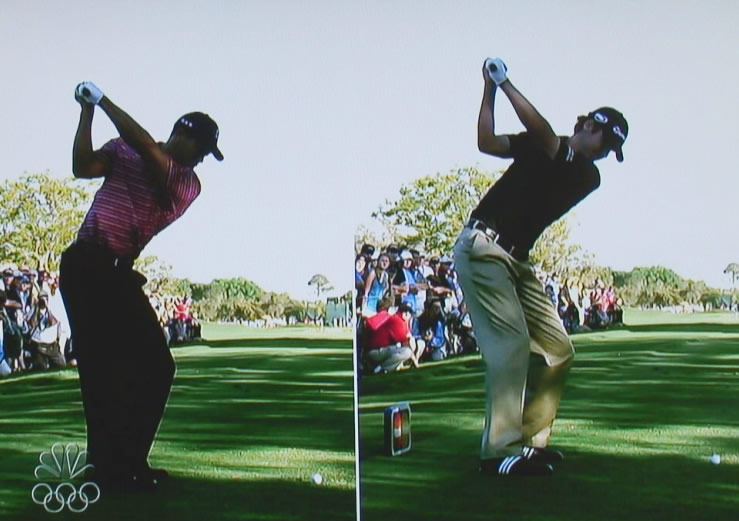 Golf Store
Buy Rotary Swing instructional DVD's, books and golf training aids.




GameConsole
See the Members Vault GameConsole in action!




Custom Driver Fitting
Pick up 40 yards today with the proper driver and technique!