While the Rotary Swing is easy to learn and low maintenance, perhaps the greatest benefit to the swing is that it makes it very easy to understand your misses. You don't have to have a degree in physics nor do you have to have your golf instructor by your side to explain what happened after each missed shot. After learning the simple fundamentals of the rotary golf swing, ANY golfer can understand his or her misses and even more importantly, understand how to correct them.
In this video, I discuss the overall movement of the body and arms and how they can work incorrectly to create certain types of missed shots. This overview provides a great mental picture of the swing dynamics as a whole so that you can understand where many common missed shots come from such as blocks, slices, hooks, etc.
For instance, in the image below, you can see that I have my hands too high for a Rotary Swing and from this position, I will come over the top and too steep unless I were to stop my body rotation and shallow my arms. Of course, that's a no-no in the Rotary Swing, so we need to correct this arm position. These types of positions and their faults and fixes are discussed in this video on "Understanding Your Misses."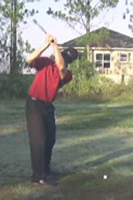 Is this a good position at the top of the golf swing? This video will tell you the answer and more importantly, what type of shot or miss can be expected from this position.