Maximize your drives with Rotary Swing Golf Instruction and Top Equipment Fitting!
Fitting Details:
Fittings done with a FlightScope Kudu Launch Monitor (watch video) and real Titleist and TaylorMade golf balls.
All shafts are spine aligned and can be positioned on virtually any plane due to the rotating and clocked Nakashima hosel sleeve design.
Clubface angles can be clocked from 1* open to 2* closed on the spot.
Dozens of shafts to choose from. Prices range from as low as $50 to $1,200 and everything in between.
Nakashima HTEC heads are used for fitting process for the ease of changing shaft and head combinations on the spot.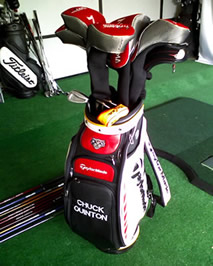 Members Vault members receive SIGNIFICANT discounts on both the fitting session and equipment purchase!
See the results of our driver fittings - click here to see golfers that have picked up 30+ yards!

Fitting Session:
1.5 Hour Swing Instruction and Driver Fitting Session
Covers driver setup and swing changes needed to optimize launch characteristics to hit your longest drives.
$200 - Non-Member Price
$175 - Member Price
NEW! Can't make it down for a fitting? Get fit online with our demo clubs!
Head options:
| | | | | |
| --- | --- | --- | --- | --- |
| Head | | | | |
| | 8.5, 9.5, 10.5, 11.5, 13, 15 | | | |
| | | | | |
| | | | | |
Shaft options (Partial list, ANY shaft is available):
| | | | |
| --- | --- | --- | --- |
| Shaft | | | |
| | | | |
| | | | |
| Matrix TPHD | $1,000 | $1,000 | $899 |
| Matrix XCon 5 | $349 | $300 | $300 |
To book a fitting and pick up some SERIOUS YARDAGE on your drives, email Christina at christina@rotaryswing.com or call 407-729-1889
Full Iron Set Pricing
Head

TT Dynamic Gold
(add $100 for Project X Shafts)

TT Dynamic Gold
(add $100 for Project X Shafts)

Nakashima NP1
Shaft options (Partial list, ANY shaft is available):
| | | | |
| --- | --- | --- | --- |
| Shaft | | | |
| | | | |
| | | | |
| Matrix TPHD | $1,000 | $1,000 | $899 |
| Matrix XCon 5 | $349 | $300 | $300 |
To book a fitting and pick up some SERIOUS YARDAGE on your drives, email Christina at christina@rotaryswing.com or call